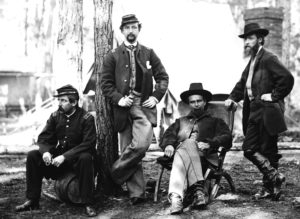 James Gardner took this photograph at Brandy Station, VA in December 1863. The men in it are identified (left to right) as:
Captain Samuel A McClellan(d) – Battery G, First New York Light, 1861-65, formerly 2nd Lieutenant of Busteed's Chicago Battery. He was with the 2nd Corps in Washington DC in September 1862 and not on the Maryland Campaign.
Captain J (Jacob) Henry Sleeper – 1st Lieutenant First ("A") Battery, Massachusetts Light Artillery, 1861-62; Captain 10th Battery 20 Sept 1862-1865. He may have been in Maryland with Battery A, part of the 6th Army Corps; they were in reserve at Antietam.
Captain O'Neil W Robinson, Jr. – commanded the 4th Battery, Maine Light Artillery on the Maryland Campaign. Major and Artillery Chief, 2nd Army Corps in 1864. He died 4 months after this photograph was made, at home of disease, exactly 40 years old.
Alfred Waud – famed combat artist and newsman. Was present on the field and sketched extensively at Antietam.
---
Notes
This digital image is from Gardner's original wet collodion glass plate negative, now in the collection of the Library of Congress.