On the afternoon of 17 September 1862 the 4th Rhode Island Infantry were in action at Antietam in a large cornfield on the Otto farm above the lower (later Burnside's) bridge:
… as the enemy showed the national flag (the corn concealing their uniform), and as our troops had been seen in advance on our right, moving diagonally across our front, the order to cease firing was given, and a volunteer officer to go forward to ascertain who was in our front was called for. Lieutenant George E. Curtis and George H. Watts immediately stepped forward, and placing themselves one on each side of the color bearer (Corporal Tanner, Company G), carried the flag up the hill within 20 feet of the rebels, when the enemy fired, killing the corporal. Lieutenant Curtis seized the colors and returned, followed by Lieutenant Watts.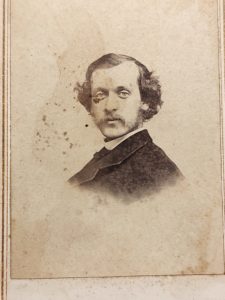 This fine photograph was sent me by Robert Grandchamp from his personal collection. The quote above is from Lieutenant Colonel Curtis' after-action Report.