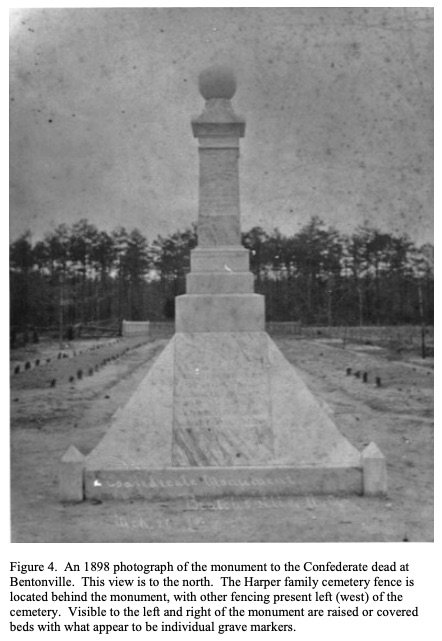 There's not much in the record for poor Private James W. Glover of the 6th Georgia Infantry, but some considerable effort has gone into finding and marking his burial place.
He enlisted at age 25 in early 1862, was listed as missing at Sharpsburg in September, and as absent without leave in April 1864. He returned to duty, though, only to be mortally wounded at Bentonville, NC in March 1865.
He died at the Harper House hospital near the battlefield and was initially buried there, but was moved to near the Confederate Memorial on the battlefield with 19 other soldiers when that monument was dedicated in 1895. Later lost, those burial spots were again located and marked by archaeologists in 2006-2010.
This is an 1898 photograph of the Memorial at Bentonville, found on page 71 of the journal North Carolina Archaeology (October 2011) in a piece about the 2006-2010 re-discovery of Glover and 19 other Confederate soldiers buried there.