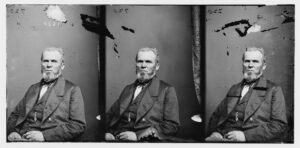 In 1860 physician Socrates Norton Sherman was elected to Congress, to serve from 4 March 1861 to 3 March 1863, but was soon after also commissioned Surgeon of the 34th New York Infantry. Although attached to the 34th, he was "away a good deal in Washington." He joined his regiment at Antietam and treated wounded soldiers at the Hoffman Farm field hospital at Sharpsburg beginning on 17 September 1862. Among his patients was Private Charles Ford of his own regiment, whose leg he amputated.
It's a shame no enterprising newspaper took the opportunity to print a headline like
Congressman races to Sharpsburg, cuts off soldier's leg.
His Brady photograph is at the Library of Congress.