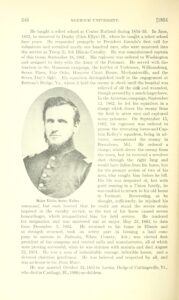 Norwich University is a military college in Vermont established in 1819. Among the many Norwich alumnae with Civil War service was Elisha Seeley Kelley, who attended from 1851-54. Above is a page in William A Ellis' Norwich University, 1819-1911; Her History, Her Graduates, Her Roll of Honor (Vol. 2, 1911), online from the Hathi Trust.
Kelley was Captain of Company E, 8th Illinois Infantry and was wounded by a pistol shot through his right lung in action at Boonsboro, MD on 15 September 1862. He was promoted to Major in December and rejoined the regiment, but he was unable to continue due to his wound and resigned in May 1863.
He returned to Illinois and formed a land company which set up mills and "manufactories" in White County, Arkansas where he died of malaria in August 1871.