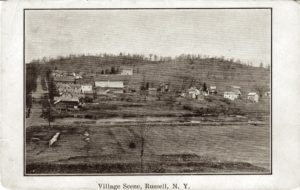 Four Severance brothers from Russell, St Lawrence County, NY served in the Civil War.
Two of them survived.
Two – Gersham, age 19 (60th New York Infantry) and William, 26 (23rd Ohio Infantry)Â  – were killed in Maryland in September 1862.
I would like to hear more about this family. Anyone?
___________
The image here is a c. 1900 postcard in the collection of the St. Lawrence County Historical Association.