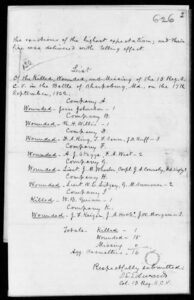 The last man on Colonel Edwards' casualty list for the 13th South Carolina Infantry (above) is not-yet 19 year old Private Jeremiah Wynn Morgan. He survived wounds at Sharpsburg and Gettysburg to go home, get married, and have 7 children, but he died young at age 34 in 1874.
The only man in the regiment killed outright at Sharpsburg on 17 September 1862 was Private William B Quinn of Company I, a 38 year old farmer from Spartanburg.
This list is among Confederate States Army Casualty Lists and Narrative Reports in Record Group 19, National Archives, online from fold3. Each of the men on it have a page on AotW.