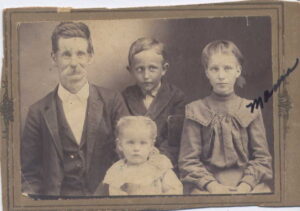 These are Thomas Marion Carroll and 3 of his 11 or 12 children: his youngest, Martha Julia/Jane Carroll (1899-1985), Henderson M. Carroll (1893-1963), and Addie Priscilla Carroll (later Harrison, 1888-1966).
Addie had 7 children of her own, one of whom must have written 'Mama" on this photograph, which was shared to the Family Search database by a descendant.
Thomas was 17 years old when he enlisted as a Private in Company F of the 17th South Carolina Infantry in November 1861. He was at Turner's Gap on South Mountain and at Sharpsburg in September 1862 and fought with his regiment until captured at Petersburg, VA in March 1865. He was afterward a farmer in Rutherford County, NC for about 40 years.