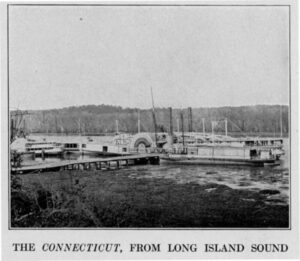 The capacity of the [US Army Hospital Steamer] 'Connecticut' was four hundred patients. She made altogether forty-seven trips and conveyed eighteen thousand nine hundred and nineteen (18,919) patients.
One of those patients was Private George Perry Williams of the 17th South Carolina Infantry. He'd been captured at Petersburg in March 1865 and was a prisoner at Point Lookout, MD. Although probably not previously wounded, in late July he had "partial paralysis of left side of body," and was sent to a hospital in Washington, DC aboard the Connecticut. He was finally released in August 1865.
George had a tough early life, too. In October 1843, when he was 5, his father Rev. Martin Jones Williams (b. 1806) was murdered – poisoned by arsenic. His mother Sarah Kearse Williams (1807-1865) was tried for the crime but not convicted, for lack of evidence to prove it was her. She later had children with at least 2 men but did not remarry. She was from a wealthy and influential family but by 1850, when George was 12, she'd lost her land and the slaves her father had left her in 1838.
The quote above is from the Medical and Surgical History of the War of the Rebellion (1870), online from the US National Library of Medicine. The picture of the US Army Hospital Steamer Connecticut is from Miller's Photographic History of the Civil War (Vol. 7, 1911), online from the Hathi Trust. Georges's postwar photo below is from Charles L.D. Carlson, SCV Camp 842.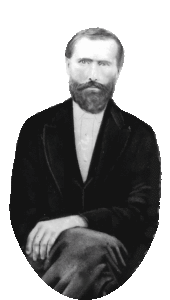 ____________________
Another soldier of the 17th South Carolina got a trip on a USA Hospital Steamer, in May 1865.
Private Nicholas Welsh of Company I was wounded at Turner's Gap and at the very end of the war at Appomattox Court House on 9 April 1865, after which he was sent to a hospital in Washington, DC on the State of Maine, seen below. That photograph is from the collection [pdf] of the National Museum of Health and Medicine.