This commission, signed by President Lincoln and Secretary of War Stanton, promoted Lieutenant James B. Turner of the 88th New York Infantry to a Staff position in the US Volunteers.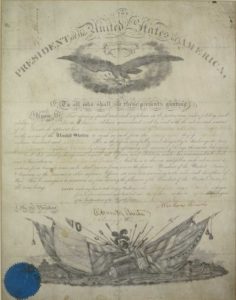 After recovering from his Antietam wound, Captain Turner served on the staff of General Meagher's Irish Brigade until his death in the Wilderness on 5 May 1864.
Known by his pen-name Gallowglass, Turner wrote extensively about the Brigade for the New York Irish American newspaper during the war.
________________
This document was sold at auction in 2012 by The Cobbs Auctioneers.