This photograph from the Wisconsin Historical Society depicts men of the color guard of the 2nd Wisconsin regiment. It was probably taken in the Summer of 1862.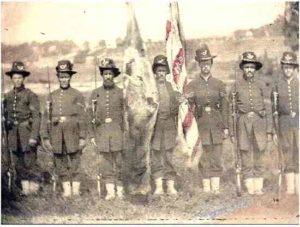 From a feature on the Iron Brigade in America's Civil War Magazine of May 2007, two of the men are identified: they are Corporal George W. Holloway (2nd from right) and Sergeant James Gow (3rd from right with the National Colors) of Company C.
Holloway was killed at Antietam and Gow at Gettysburg.