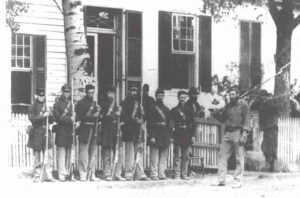 A photograph from the collection of the US Army Heritage and Education Center in Carlisle, PA. Probably taken in 1862, it was donated by Richard Woodbury.
Pictured (l to r) in the foreground are 8 members of Company F, 2nd US Sharpshooters: Pvt Charles R. Applin, Pvt Isaac H. Farnum, Sgt Horace Caldwell, Pvt Amos S. Abbott, Pvt William C. Beard, Pvt William Spead, Pvt Leonard Spead, and Pvt Cyrus R. Farnum. All but William Spead and William Beard survived the war and went home to New Hampshire.
Spead was killed at Petersburg, VA in October 1864. Beard was wounded at Antietam and killed at Gettysburg in July 1863.
Here's the back of that photo.