In the 1840s and 1850s the Lawrences and the Pinckneys were farm neighbors in Grimes County, Texas.
Farmer and tanner Martin Byrd Lawrence's (1794-1851) place was in the tiny community of Retreat – named for the nearby plantation of early Texas pioneer Jared Ellison Groce (1782–1839), called Groce's Retreat. Martin had been a friend and admirer of Jared's and got his start in Grimes County in about 1836 with a gift from Jared of 100 acres out of Groce's Retreat.
Thomas Shubrick Pinckney (1815-1876), of the Charleston Pinckneys, had come to the County a couple of years after the Lawrences and had a cotton plantation at Fields Store, about 10 miles south.
Sometime before the war young Susanna Shubrick Hayne "Sue" Pinckney …
… fell in love with Groce Lawrence, a vigorous and earthy young man of her neighborhood, the complete antithesis of her story-book heroes. It was an honest attachment for both of them, however, and Sue was deeply hurt when her father told Groce that he would rather see his daughter in her coffin than married to him. He said Groce drank too much and was a poor risk as a husband for a delicate, idealistic girl like her. Groce urged her to go away with him and be married, but she would never have dreamed of defying her father …
In July 1861 Sue's brother John M. Pinckney, just 16 years old, and her former suitor 25 year old Groce W. Lawrence enlisted as Privates in Company G of the 4th Texas Infantry. Both were wounded at Sharpsburg in September 1862, but returned to duty not long after.
John came home after Appomattox but Groce never did. He was killed fighting in the Wilderness in Virginia in May 1864.
In the years that followed neither Sue nor her brother John married, and they lived together in Hempstead, Texas, the seat of Waller County.
Unusually for a woman, at least in Texas at that time, she became somewhat famous as a novelist. She published short stories and at least three novels: Douglas; Tender and True (1892), In the Southland (1906), and Darcy Pinckney (1906).
Her favorite subjects are the affairs of English lords, Italian countesses, and Southern aristocrats. She deals with love stronger than death and death more beautiful than life. Her men and women never eat a meal; they enjoy a "light repast" or a "sumptuous collation." They never take a walk at dusk; they go for "an evening ramble." A group of ladies is not a group of ladies at all, but "a bright parterre of breathing flowers" … She was a Southern Lady of the Old School with all the characteristic reticences, timidities, and taboos …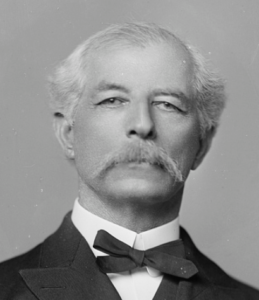 Sue also pushed her brother John to do more than farm cotton – to study the law, run for office, advance his career. All of which he did. In 1903, by then a County Judge, he won a special election to fill an empty seat in the US House of Representatives, and he won again in the regular election of 1904.
Very soon after, though, he was killed in something of a riot at the Waller County Courthouse on 24 April 1905 – when gunfire erupted during a contentious meeting on the issue of the prohibition of alcohol in Texas.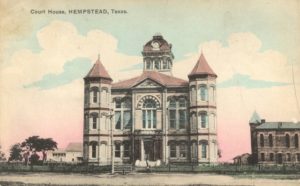 [Addendum: John and Sue's brother Robert H.W. Pinckney also enlisted in Company G in 1861 and survived the war, but with a very different story.]
____________
Notes
The 1882 map of Grimes and Waller Counties above is from the Texas General Land Office and is online thanks to Texas Escapes magazine. Fields Store is shown here in Waller County, which was created from parts of Grimes and Austin Counties in April 1873.
More about Martin Byrd Lawrence is in Martin Byrd Lawrence story, early 1800s in the Navisota Examiner by by Betty Dunn, Two Rivers Heritage Foundation.
The quotes above are from A Feud for Miss Sue Pinckney by Dr. Charles Leland Sonnichsen (1901-1991) as published in the New Mexico Quarterly (Volume 27, Issue 3, 1957) , online from the University of New Mexico Press at UNM Digital Repository. Dr. Sonnichsen also wrote Miss Sue Pinckney and Her Private World in SMUs Southwest Review (Volume 29, No. 1, Autumn 1943).
Congressman Pinckney's 1904 photograph is from the Library of Congress.
The postcard of the Waller County Courthouse in about 1894 is online thanks to Mary Richardson at the Waller County WikiTree Project.
There's more online about John Pinckney and his death in Prohibition battle deadly for Texas congressman Pinckney by Dr. Ken Bridges for the Waco Tribune-Herald of 3 May 2018. Some quibbles: I have found no record of his brother Thomas's service in Hood's Brigade, and John was probably never a Lieutenant.
There's a fine bio sketch of Sue online from the Handbook of Texas. One for Jared E Groce, too.