I'm sorry to admit I didn't know there was a Confederate States Naval Academy.
It was authorized by the Confederate Congress in April 1862 and began operations in July 1863 aboard the CSS Patrick Henry anchored in the James River below Richmond. The initial student body was 52 Midshipmen – all the ship could accommodate.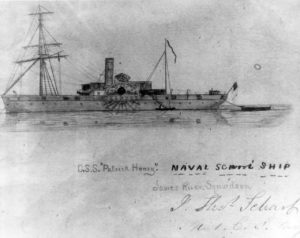 One of the Midshipman was Robert H W Pinckney, late Private in Company G, 4th Texas Infantry. He was the youngest man in his Company when he enlisted in July 1861 at age 14, and was with them in Maryland in 1862. He was selected for the CS Naval Academy in April 1863, as an Acting Midshipman, and was commissioned Midshipman, CS Provisional Navy in June 1864.
His brother John was also at Sharpsburg, and was later a US Congressman; see a December 2021 blog post about him and their sister Susanna Shubrick "Sue" Pinckney.
____________________
Note
The drawing of the Patrick Henry was done by Midshipman and Pinckney's classmate John Thomas Scharf, later author of History of the Confederate States Navy from its organization to the surrender of its last vessel … (1894) [online from the Hathi Trust]. That volume includes a chapter of detail on the CS Naval Academy. His drawing is online from the US Navy, Naval History and Heritage Command.
The painting is by John R. Key. The original caption: "School ship of Confederate Naval Academy at Drewry's Bluff, circa 1863. On right is a tug and an ironclad of the James River Squadron."
For further reference, the Naval History and Heritage Command hosts a copy of the Register of the Commissioned and Warrant Officers of the Navy of the Confederate States (1864) online.