Walter Clark's Histories of the Several Regiments and Battalions from North Carolina in the Great War 1861-'65 (1901) [hyperTOC] is a go-to reference.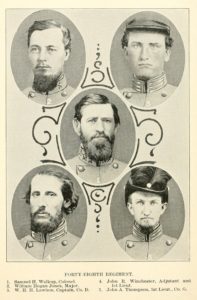 Here's the page at the start of his chapter on the 48th North Carolina Infantry (Volume 2, pg. 113). In the middle of the group is Colonel Samuel H. Walkup. He was their Lieutenant Colonel at Sharpsburg in September 1862.
Idealized, line-drawn uniforms and collar insignia with faces superimposed. You can't miss a Clark portrait!
Thanks to Andy Cardinal (@battleantietam) for the pointer to Walkup.