Courtland Lynn, Private, Company C, 4th New Jersey Infantry was wounded at Antietam on 17 September 1862. He and the regiment had been engaged at Crampton's Gap on South Mountain 3 days earlier, but he came safely out of that action. They were largely in reserve at Antietam, but that's where Private Lynn was hit.
Just over 20 years later Lynn applied for a veteran's pension – which is what triggered this correspondence from the War Department to the Commissioner of Pensions.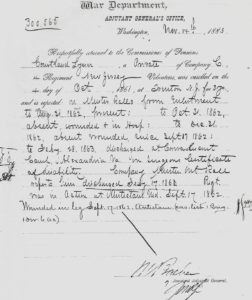 It's an excellent summary of his service and helps nail down where he was wounded. It also hints at a casualty list for his Brigade: the First of the 1st Division, 6th Army Corps. Another project for me …
This letter and the initial pointer to Lynn are from his great grandson John Courtland Lynn. The very best kind of source.