Private Hugh Whitesides of the 4th Texas Infantry "gave himself up" to US troops at Cherry Run, VA (WV) on 19 July 1863 and was sent to Camp Chase, OH, where he swore the oath seen here, made his mark, and was released.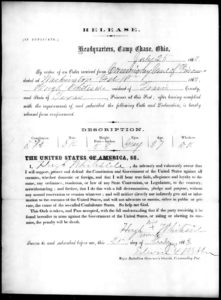 I'm guessing he left his regiment somewhere near Falling Waters on 14 or 15 July as the Army was returning/retreating from Gettysburg, PA.
I don't know much about Hugh, except that he was probably born in Ireland, was a shepherd in Travis County, Texas before the war, and was 27 years old when he took that oath. I've found nothing on what became of him afterward.