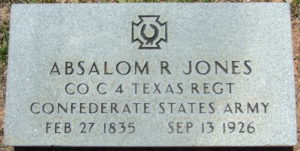 Here's the relatively modern government marker in Prospect Cemetery in Morgan County, GA for Sharpsburg veteran Absalom R. Jones. He was a Private in Company F (wrong on the stone), 4th Texas Infantry until October 1864, then a "galvanized Yankee" in Company C of the 4th United States Volunteers to June 1866, with service in the West fighting Indians.
It's not surprising that his stone doesn't mention his US service.
But, with only a little evidence, I'd say he had been at best a lukewarm Confederate. He was an ambulance driver or litter bearer for much of his Confederate service – non-combatant roles – and was captured "on the march" near Spotsylvania, VA in May 1864, not in battle; perhaps he slipped away from his unit there.
To be fair, though, there were many reasons more than 5,000 former Confederates enlisted for US service in 1864-65: desperation to get out of a miserable prison among them, and that may well have been his reason. His enlistment document doesn't specify:
Although he originally enlisted in Texas in 1861, he returned to his native Georgia after his military service and was a farmer there for the rest of his long life.
______________________
His marker photograph kindly contributed to Find-a-grave by Ed Hooten.
His enlistment paper is from his file among the Compiled Service Records of Former Confederate Soldiers who Served in the 1st Through 6th U.S. Volunteer Infantry Regiments, 1864-1866, at the US National Archives. I got my copy from the fold3 subscription service.