Private Redding Louis Leggett of the 4th North Carolina Infantry survived being captured at Sharpsburg in September 1862 but was killed at Spotsylvania, VA in May 1864.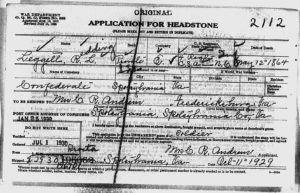 65 years later, thanks to this application by Mrs. C.R. Andrews, the US War Department provided a fine new headstone for him in the Spotsylvania Confederate Cemetery.
Roberta K "Bertie" Harris Andrews (1868-1951, obit) had chaired the committee of the Ladies Memorial Association of Spotsylvania [see a historic marker about them] which helped fund a monument to Confederate soldiers in the cemetery, erected by the United Daughters of the Confederacy (UDC) in 1913.
In 1951 she was buried with her 'boys' in Spotsylvania Confederate Cemetery.
_______________
October 2022: I've just come upon another of Mrs Andrews' boys. This application is for James J Paul of the 13th Georgia, another Sharpsburg veteran killed at Spotsylvania. You'll note she wrote it the same day as the one for Sergeant Leggett.
Here's the back of that application form, FYI: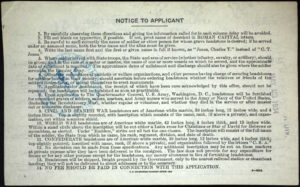 _______________
Notes
These applications are from United States Headstone Applications for U.S. Military Veterans, 1925-1949; NARA microfilm publication M1916; Washington, D.C.: National Archives and Records Administration. They are online and searchable in the FamilySearch database.
The photograph of Leggett's stone is by Big French, who shared it on Find-a-grave.