Maryland Campaign veteran Christian Benjamin Deishler is probably among men of his company – "K" of the 5th Alabama Infantry – in this photograph taken sometime after 1900 at a unit reunion. Touch for a larger version.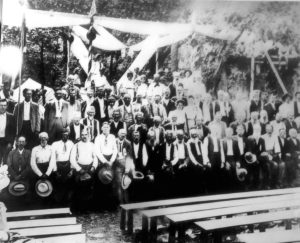 Then-Corporal Deishler was wounded in action near Turner's Gap on South Mountain on 14 September 1862 but survived the war and farmed for many years afterward in Texas.
Here he is in a 1901 picture with his wife Sarah Ann Doyle (1851-1943).
Both photos were posted to Ancestry.com by Christopher Eugene Holley in April 2022.