Falton K Lewis was about 20 years old when he was hit by a gunshot to his thigh at Sharpsburg, MD on 17 September 1862. He died of his wound in a hospital in Richmond, VA on the last day of 1862 and someone there took an inventory of his possessions.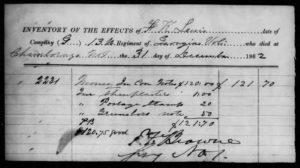 Money in Confederate notes $120.00
In shinplasters 1.00
" Postage Stamps 20
" Greensboro note 50
An example of an 1862 Confederate note: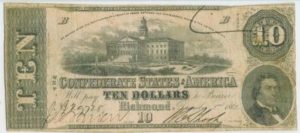 The annotation on the Inventory "$120.75 good" probably deducts the dollar in "shinplasters" – privately issued notes of less than one dollar value, generally reviled – thought not worth their face value. Here's just such a shinplaster issued by a New Orleans coffeehouse owner in 1862:
A typical 1862 Confederate postage stamp: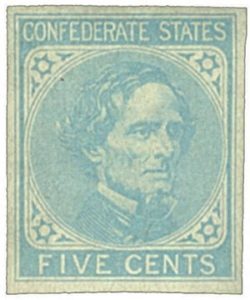 The Greensboro note probably looked something like this:
Private Lewis' Inventory of Effects is from his Compiled Service Record jacket at he US National Archives, this copy online from fold3.