Dr Joseph Ruff Gibson, recent graduate of the University of Pennsylvania medical school, was commissioned Assistant Surgeon, US Army on 16 April 1862, but it took a while for the formal paperwork to catch up with him. Here's the official oath of office he returned to the Army Adjutant General in August 1862 from Harrison's Landing, VA:
He saw his first action with the 4th United States Infantry at Antietam on 17 September 1862.
He continued in the Regular Army after the war and in 1870 was post surgeon at Fort Stanton in the New Mexico Territory. Here he is, at left, with others of the post in front of the Surgeon's Quarters.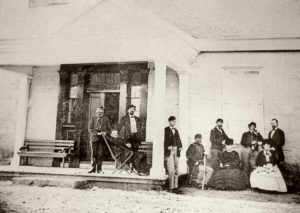 Left to right:
Dr. Joseph R. Gibson (Post Surgeon); Lieut. Orsemus B. Boyd (Co B, 8th Cav); Emil Fritz (Post Trader); Lieut. Casper H. Conrad (Co I, 15th Inf); Capt William McCleave (Co B, 8th Cav); Capt Chambers McKibbin (Co I, 15th Inf); Mrs. McKibbin; Lieut Richard A. Williams (Co B, 8th Cav and Post Adjutant); Mrs. Boyd; and Lawrence G. Murphy (Post Trader).
The trading post was reported to be the social center of the community, run by "Colonel Emil Fritz, veteran of the war, and Judge Lawrence G. Murphy, an ambitious merchant."
---
Notes
Gibson's written oath of office is from his papers among Letters Received by the Adjutant General, 1861-1870, in the National Archives, online from fold3. His signature was witnessed by Lt. J.H. Van Derslice, Adjutant, 14th US Infantry – who was also at Antietam in September.
The 1870 photograph is from one used on a bronze historical marker at Fort Stanton, captured for the HMDB by William F Haenn, who also provided the identification of the subjects.
That quote and much more about life at Fort Stanton may be found in Andrew Wallace's Duty in the District of New Mexico: A Military Memoir [pdf], in the July 1975 New Mexico Historical Review.