Although he was not an Antietam veteran, I owe former Regular Army Sergeant Francis B. Heitman at least a brief biographical examination and my humble thanks.
His massive work, the Historical Register and Dictionary of the United States Army from its Organization, September 29, 1789, to March 2, 1903, updated and published in 2 volumes by the US Government Printing Office in 1903, lists basic service information for every man who was commissioned an officer in the United States Army up to that year.
This obviously covers officers of the Civil War, my area of particular interest, and has made Heitman my first stop when looking into Regular Army officers at Antietam for many years now.
Not incidentally his Register also includes the "Presidents, Cabinet officers, alphabetical lists of the officers of the regular and volunteer forces of the Mexican and civil wars, general officers of the Confederate Army, chronological and alphabetical lists of campaigns, battles, actions, combats, skirmishes, and, in fact, most everything relative in any way to the United States Army."
To start at the beginning, Francis Bernard Heitman was born on 10 April 1838 in Cincinnati, Ohio.
He gave his age as 19 but was not yet 18 when he enlisted in the US Army on 16 February 1856 in Newport, KY as a Private in Company (Battery) M of the 4th United States Artillery, and was sworn in by Major Samuel P. Heintzelman, First US Infantry. He gave his occupation as a clerk, and was 5′ 8″ (or 5′ 11″) tall, with grey (or blue) eyes, light hair, and a ruddy complexion.
He finished his 5 year enlistment in February 1861, still a Private, at Fort Randall on the Missouri River in the Nebraska Territory, and reenlisted the next month, on 16 March, in New York City with Lieutenant Henry C Bankhead, 5th US Infantry, as a Private in Company B, 3rd US Infantry.
He was wounded in action at Malvern Hill, VA on 1 July 1862 and was discharged for disability on 2 January 1863 at Providence, RI, then a Corporal.
5 days later he reenlisted in Washington, DC and was assigned to work in the Office of the Adjutant General of the Army. And just 4 months after that, on 9 May 1863, he married Mary Frances Poor (1838-1923) of Georgetown, DC.
On 31 March 1864, then a Sergeant in General Service in the Army, he was discharged and appointed a civilian Clerk in the War Department, beginning a 50+ year career there.
In 1865 as a clerk in the Adjutant General's Office he was earning a salary of $1,200 per year: giving a good living at that time. President Andrew Johnson's pay, for comparison, was $25,000. From 1871 to 1881 his annual salary was $1,400, and it was $1,600 for 1883-1891, $1,800 in 1893-1917. He had finally retired by 1919.
Not quite 10 years after he began clerking at the War Department he took on the massive task of compiling his magnum opus which he published in 1890 as The Historical Register of Officers of the United States Army, September, 1789, to September, 1889. He later revised, expanded, and brought it up to 1903, re-naming it a Historical Register and Dictionary.
In the Preface to the 1890 edition, he noted:
Having been an employee in the office of the Adjutant-General of the Army during the past 28 years, I became thoroughly familiar with all the records pertaining to appointments, commissions and the service of officers of the army, and obtained the permission in 1873 of Gen. E. D. Townsend, then Adjutant-General of the Army, to engage in compiling this work. The privilege thus accorded me was courteously extended by his successor, Gen. R. C. Drum, to whom I am deeply indebted for unlimited access to any and all records in his department …

… neither labor nor expense has been spared in securing the most reliable information possible, and a slight conception of the magnitude of the task may be gathered from the fact that I have diligently applied myself, when not engaged in official duties, for 17 years in the effort to produce this compilation, in the hope that it may be a standard and reliable work of reference.
Here are a couple of samples from his Register, for the officers who mustered him into the Army in 1856 and 1861:
Although not as well known, at least in my circles, Heitman compiled a second ambitious reference work between 1890 and 1892. Building on his earlier research, he produced the Historical Register of Officers of the Continental Army during the War of the Revolution, April, 1775, to December, 1783 in 1893. He revised and re-issued that work also, in 1914.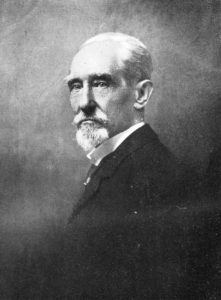 He died at age 87 in Washington, DC in 1926 and is buried with Mary Francis and 4 of his 5 daughters in Mount Olivet Cemetery there.
Here's to you and thank you, Francis B Heitman.
---
Notes
The title page of Heitman's Register and the two snippets above are from a lovely copy of Volume I of the 1903 edition from the Bancroft Library, University of California, Berkeley, digitized by Google, and online from the Internet Archive. This particular copy was delivered to Colonel Oscar F. Long of the Quartermaster General's office on 3 December 1903. Don't you imagine he checked?
The earlier, 1890 version, is also online from the Internet Archive.
Sergeant Heitman's Army service is from the United States Registers of Enlistments in the U.S. Army, 1798-1914, Vol. 051, pg. 86; Vol. 140, pg. 323; Vol. 142, pg. 336, US National Archives.
His civilian career from the Official Register of the United States, published in odd years, for 1865-1919. These are easily accessed online thanks to a handy collection of links from Don Heller, late of the Department of Computer Science and Engineering, Pennsylvania State University.
Sidetrack in the Official Register: Raphael Prosper Thian (1830-1911), who had been a War Department clerk since at least 1855, initially in the office of the Commanding General, was Head Clerk for the Adjutant General and Heitman's boss for nearly 40 years, from 1865 to 1903. Jacob Frech was Chief Clerk from 1905-1911, Alonso W Shunk from 1913-1915, and Thomas O'Brien in 1917. I'd thought Heitman was Head Clerk at some point, but didn't find that in the record.
That photo of the War Department Building in Washington, DC in about 1870 was shared from his collection by John DeFerrari in The Eisenhower Executive Office Building, America's "Greatest Monstrosity". His subject is the building which replaced the old War, Navy, and State buildings between 1871 and 1888.
Family information here is from the Family Search online genealogical database. Francis and his wife raised 5 daughters born between 1864 and 1878 – Sara, Mary, Louisa, Rose, and Minnie. They all lived into their 80s or 90s.
I've not found his parents for certainty, though there was a "Joseph Hinmann", 20-30 year old head of household with a son under age 5 and an unnamed female, presumably wife, also 20-30, in the 1840 US Census for Cincinnati, OH. Not much on details, that Census.
His photograph above is from the flyleaf of the 1914 edition of his Historical Register of Officers of the Continental Army …, online from the Internet Archive.