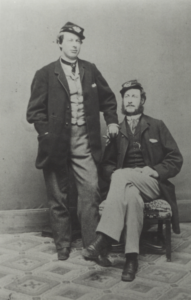 A digital copy of a photograph at the US Army Heritage & Education Center at Carlisle Barracks, PA.
Their description is CWP 100.15: First Lieutenant Daniel Mifflin Brodhead and First Lieutenant George [Keyports] Brady, 14th Regiment, United States Infantry, in military uniforms, Brodhead is standing with his left hand on Brady's shoulder who is seated with legs crossed.
Lieutenant Brodhead led a Company of the First Battalion, 14th United States Infantry at Antietam on 17 September 1862. Lieutenant Brady was at 2nd Bull Run in August, but not in Maryland in September 1862.