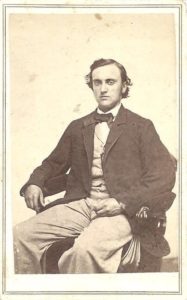 18 year old John Parker Shelton was initially only wounded in the foot at Antietam on 17 September 1862, but while helping another soldier to the rear was hit again, in the spine, and died of his wounds two days later.
… no definite information concerning young Shelton was obtained by his sorrow-stricken family for nearly three weeks after the battle. As soon as the sad tidings were telegraphed, Mr. Simon G. Cheever, – an intimate friend of the family, — started immediately for the battle-field, using every exertion to find him, or learn aught of his situation; issuing descriptive posters and scattering them throughout the region, and making all possible inquiries but to no purpose; no trace of him was learned.

Nothing was ascertained until a letter was received from Surgeon S. G. Palmer, of General Howard's Division , who wrote from head-quarters, in camp near Harper's Ferry, Oct. 2 – the battle was Sept. 17th — stating that young Shelton died of his wounds at the hospital on Hoffman's Farm in the rear of that portion of the battle-field where Sumner's corps, — to which the Thirteenth Regiment belonged, — was engaged, and where about a thousand of the wounded had been brought; — and that he had been buried in a pleasant spot beneath a walnut tree, by the side of many others, about an eighth of a mile from the farm house; at the same time sending home what few effects were found upon his body.

When these facts were learned, his cousin, Mr. Stephen W. Shelton, and his brother-in-law, Mr. George W. Copeland, at once proceeded to the battle—field and brought his body home.
---
Notes
This fine photograph is a carte-de-visite from the David Hann collection which he shared on Shelton's memorial on Find-a-grave.
The quote above is from Elbridge H. Goss' The Annals of Melrose, County of Middlesex, Massachusetts in the Great Rebellion, 1861-65 (1868).