It had been nearly 20 years since I last added a battle map segment to Antietam on the Web, and now I've put up two new ones in two days. I felt the call to do the first one as I began a deep dive into the men of the 7th Maine Infantry [previous blog post], and the second follows from some excellent field walks and discussions at the Antietam Institute Fall Conference last October.
That second new map covers a series of disjointed but remarkably effective Confederate counter-attacks near the center of their position at Sharpsburg about noon on 17 September 1862. Most ended quickly in apparently bloody failure, but taken together they were a strategic success: critical to keeping the Federals from advancing much beyond the Bloody Lane that afternoon.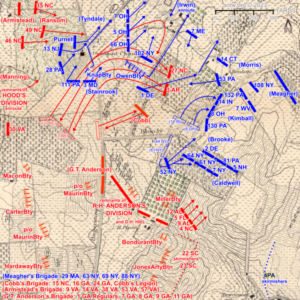 [Battle Map #10 on AotW]
While I was at it, I re-ordered the 15 map sections in approximately chronological rather than simply north-to-south order, and replaced the old top-level "menu" map with this one:

[from the main Battle Map page on AotW]
I hope this sequence encourages viewers to think a little differently about the combat events of 17 September 1862.
So what neglected action or part of the field should I do next?