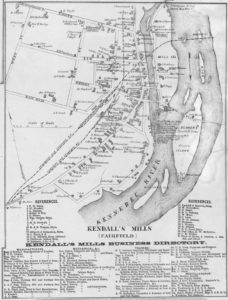 Kendall's Mills in Fairfield, Somerset County, Maine (touch to enlarge). Hometown of Lieutenant Augustus F. Emery of Companies E and D of the 7th Maine Infantry, 1861-1864.
Homes of others of the regiment are probably shown on the map. I found at least one: Seldon Connor, at Elm and Newhall Streets, was later Colonel of the Seventh (January 1864) and Governor of Maine (1876-79).
This lovely piece is but a small detail from a very large scale map of Somerset County in 1860 created by engineer J. Chase, Jr and printed by W.H. Rease in Philadelphia, PA, now at the Library of Congress.
I recommend it to my fellow students of the Regiment.