Emory Upton graduated 8th in the May class of 1861 from the US Military Academy at West Point and was immediately at war. And he was very good at it.
For the whole of his 20 year military career thereafter he was recognized as a superior combat leader, tactician, and military thinker, and was rewarded by accolades and rank well beyond his peers.
He was a Captain and led an artillery battalion of the Sixth Army Corps on the Maryland Campaign of 1862, was made Colonel of the new 121st New York Volunteer Infantry about a month later, and had command of a brigade by July 1863 at Gettysburg. He was particularly noted for proposing successful new assault tactics which he first attempted against the Mule Shoe salient at Spotsylvania Court House, VA on 10 May 1864.
Here he is in the uniform of a Brigadier General of Volunteers, that appointment dating from two days after that Spotsylvania attack.
By the end of the war in 1865 he had commanded the First Division of the Sixth Corps in Virginia, and the 4th Division of Wilson's Cavalry Corps in Alabama and Georgia.
He rose quickly in the Regular Army after the war, too, jumping from Captain of Artillery (1865) to Lieutenant Colonel of Infantry in just a year. He was Commandant of Cadets and instructor at West Point from 1870 to 1875 and appointed Colonel of the 4th US Artillery in 1880. Along the way he'd written 3 well-received books about military tactics and theory and was working on a fourth.
Tragically, he died "by his own hand" in his quarters at the Presidio in San Francisco on 14 March 1881, apparently tormented by migraine headaches. A San Fransisco Chronicle reporter speculated freely about the cause of his suicide: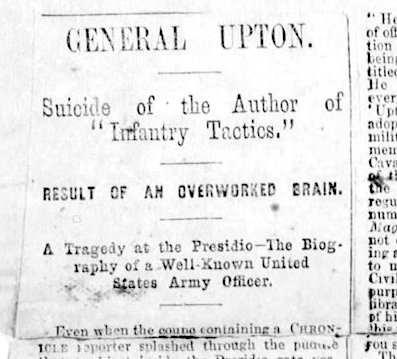 (touch to see the complete article)
---
Notes
General Upton's photograph is from the Library of Congress.
The clipping above is in the National Archives among Letters Received by the Commission Branch of the Adjutant General's Office, 1863-1870, online via fold3.