Another in a series.
Francis Effingham Pinto was in the grain storage and transport business in Brooklyn before and after the Civil War. He had been successful as a merchant since about 1850, when he decided to sell supplies to '49ers in California rather than mining gold himself.
He was appointed Lieutenant Colonel of the 32nd New York Infantry in May 1861 and on 13 September 1862 was temporarily assigned to command their sister regiment, the 31st New York Infantry as they approached South Mountain in Maryland – the 31st having no field officers (Colonel, Lt. Colonel, Major) of their own present.
He was in command of the 31st at Crampton's Gap on the 14th and at Antietam on 17 September, but did he also lead the 32nd New York Infantry at Antietam?
The New York State monument (1919) on the battlefield lists Colonel Roderick N Matheson and Major George F Lemon (both also longtime Californians) in command of the 32nd at Antietam. They certainly led the regiment in action at Crampton's Gap on 14 September, but both were mortally wounded there and obviously not at Antietam 3 days later.
Lieutenant Colonel Pinto's cemetery biography suggests he took charge of both units at Antietam. The definitive answer is probably in Pinto's own History of the 32nd Regiment, New York Volunteers, in the Civil War, 1861-1863, and personal recollection during that period, which he published in 1895, but I've not found a copy yet.
Returning to Pinto's civilian life after the war, here's a lovely illustration of a floating grain elevator and F.E. Pinto's grain storage buildings in Atlantic Basin, Brooklyn, NY in 1871.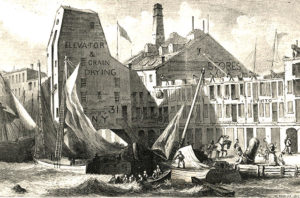 ---
Notes
Colonel Pinto's photograph is from the MOLLUS Massachusetts album, online from the US Army Heritage and Education Center, Carlisle Barracks.
The picture of Pinto's stores in Brooklyn is from Harper's Weekly of 20 May 1871 and was shared online by Maggie Land Blanck.