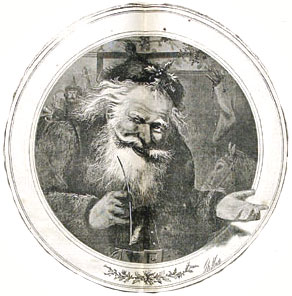 Santa Claus as Thomas Nast pictured him in Harper's Weekly in 1865
All the best to you and yours this Season and through the New Year. I'm also thinking of our troops in harm's way this Christmas Eve, and look forward to having them back safe and soon.
Is blogging evolving, or am I just looking for validation of my own tendency to post less often?
In between the slow bloggers and the rapid-fire ones, there is a vast middle, hundreds of thousands of writers who are not trying to attract advertising or buzz but do want to reach like-minded colleagues and friends. These people have been the bedrock of the [blogging] genre since its start, yet recently there has been a sea change in their output: They are increasingly turning to slow blogging, in practice if not in name.
Go see Dan Cohen for a thoughtful examination of (scholarly) blogging and a pointer to Sharon Otterman's New York Times piece quoted above. I like his take that
… personal content management systems (what blogging platforms really are) are, despite the genre's early, unpromising forms, perfectly suited for serious thought and scholarship. With blogging, there is no requirement for frequent posting, and I subscribe to many scholarly blogs that have infrequent, but substantive, posts. Put us in the slow blogging camp…
I like the personal publishing concept, and departing from the stereotype of blog as vanity outlet.
If you can get to the battlefield, and especially if you've never done this before, make a point to be there on Saturday, December 6.

It's the 20th Annual Memorial Illumination. It will be stunning. You'll be awestruck, I promise.
Volunteers place over 23,000 candles on the battlefield; each representing a casualty from the bloodiest single day battle in American History. Driving tour begins at 6:00 p.m.on Route 34 east of Sharpsburg. In the event of high winds or heavy rain, this event will be rescheduled to December 13. Note: The visitor center will be open from 8:30 a.m through 3:00 p.m. Several of the park roads will not be available to tour after 3:00 p.m.
Also this year …
Pry House Field Hospital Museum-Living history, barn and house exhibits conducted before the Illumination. House closes at 5pm. Illumination gates open at 6 pm at the entrance on Route 34. For more information, call 301-695-1864 or visit us online at www.civilwarmed.org.