Sharpsburg Veteran and former Texas Ranger Hiram B. Rogers was a farmer near Chalk Mountain, Texas by 1900 and was still farming there at age 80 in 1920. Chalk Mountain is on the somewhat flexible border between Erath and Somervell Counties, so Rogers appears in both counties in various Census records.
Chalk Mountain was always a tiny town, never exceeding 100 residents, and is now a "ghost town." Here's it is on a map in 1920 (from the Texas Land Office), online from Texas Escapes.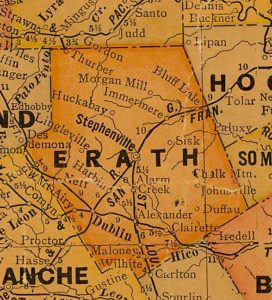 Here's a strong looking Hiram at about age 85 at his home at Chalk Mountain, with grandson Alton McKnight Rogers (1921-1943, polio), who was born there. The photograph was contributed to his Find-a-grave memorial by Hiram's great-great granddaughter Patricia S.