Lieutenant Richard C. Shannon of the 5th Maine Infantry was assigned as aide-de-camp to Major General Henry W. Slocum, commander of the First Division, 6th Army Corps, in March 1862. Although a well-educated young man, he was still learning his profession as a staff officer in August and September 1862.
Shannon left behind some wartime diaries which, although not especially dramatic as narrative, offer insight into his day-to-day experience in the field.
Of particular interest to me is this field notebook/diary he had with him on the Maryland Campaign.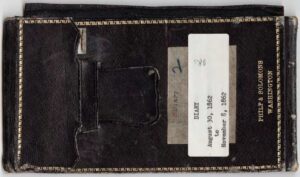 It is a flip-page style that he probably carried in his pocket, and he used it both as a traditional diary – writing a brief summary of each day's activity – and as a working notebook to keep orders, names, maps, and other things he needed to remember.
I'll pull out some pages to give you a flavor, here. Click on any of them to expand for easier reading.
read the rest of this entry »
I should be doing something else, but got pulled off track by a trooper of the 3rd Indiana Cavalry, James Williamson, who was killed in a little-known cavalry skirmish at the Quebec Schoolhouse near Middletown, MD on 13 September 1862.
His regiment's historian, former Corporal William N. Pickerill wrote a fascinating account of that 'desperate little cavalry battle' for a newspaper in 1897, and put it in his regimental History in 1906. Because of him, I've spent the last couple of days putting names and faces with some of the men who were there.
read the rest of this entry »
New on AotW: a handy pocket guide to the field artillery pieces of each of the Confederate and Union batteries at Antietam and on the Maryland Campaign of 1862. In spreadsheet form, it shows counts by gun type for all 135 batteries present, and it's available as a PDF and also as a link on the main AotW Weapons page .
I welcome your feedback.
OK, so it's not really a "pocket" guide and the print is really small on a letter-sized sheet. But it is concise and reasonably complete. Perhaps best read zoomed-in on your computer screen.
Some patterns are easy to see in this form. Have fun with the analysis – Confederate vs Federal.
As always, there's more info about each gun type and every battery online at Antietam on the Web.