I recently tweeted about adding a new bio page for a Georgia soldier, Andrew W Poarch and, somewhat as an aside, noted that his modern headstone has some problems.
He was buried at Mt. Olivet Cemetery in Frederick, MD in October 1862 and at some point given a basic headstone, now heavily worn.
Much more recently, I'd guess in the 1980s or 90s, well-meaning persons got him a new headstone from the US Department of Veterans Affairs (VA).
Probably because of transcription errors in his original burial records, they got his name terribly wrong. Apparently the applicant didn't dig any deeper – like into his service records, rolls, or family genealogies to verify his information. Although, to be fair, it's much easier to do that today than it was 30 or 40 years ago.
But now the errors are literally carved in stone.
I've seen dozens of markers like these with errors large and small over the years of researching my soldiers, but had not thought to make a list or keep a log of them.
The day after Private Poarch's, though, I found another such case – the stone for Louisianan Volney L. Farnham at Elmwood in Shepherdstown, WV. It has his first initial/name and his regiment wrong.
And this afternoon a third popped-up: Private William T. Curry of South Carolina. This is his modern VA marker in Dials Cemetery, Gray Court, SC. Minor things, to be sure, but his middle initial and his year of birth are probably wrong.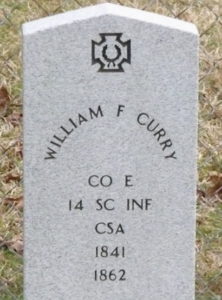 So taking these 3 stones as huge cosmic hints, I'm starting a visual list here, and I'll add to it as I find more. I can't fix them, but I can provide a virtual erratum.
Let me know if you find any more cases like these, won't you? Or if you have any information that corrects errors I've made.
_____________
Gravestone pictures via Findagrave.
_____________
[25] additions after the break …
read the rest of this entry »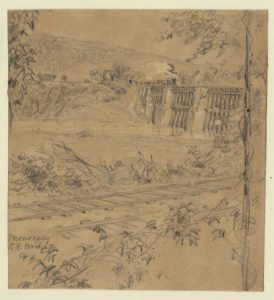 While looking for something else, I came upon what may be the story of the first Confederate soldier killed on the Maryland Campaign of 1862. He was one of the earliest, certainly.
It happened on 8 September 1862, at Monocacy Junction near Frederick, MD, and probably did not involve gunfire.
On that date much of the Army of Northern Virginia (ANV) was in camp in and around Frederick, MD and Private Thomas Riley of the 6th Louisiana Infantry was part of a detail assigned to destroy the nearby railroad bridge across the Monocacy River. They succeeded in blowing it up, but Riley was killed in the process.
About a week later, after the ANV had moved on, the 14th New Jersey Infantry returned to their post at the bridge. In a somewhat gruesome postscript to our story, Sergeant Terrill of the 14th described what they found:
Everything looked desolate. The bridge destroyed, remnants of wagons, dead horses and mules lying around… It was raining hard and very muddy. Tents were pitched in a plowed field in regular order, guards were stationed around camp …

The rebels [had] left a squad of men to destroy the bridge; in the attempt one man was blown up and buried near the ruins, leaving his arms and head above ground. This was the first rebel the men had ever seen, and for some time was an object of curiosity to us; he lay exposed several days; at last his remains were taken up and decently interred by our men.
________
The picture at the top is a sketch by Alfred Waud of the railroad bridge as it looked in June or July 1863,  after it had been rebuilt. The original is in the Library of Congress.
I have had a great time pulling a research "thread" this evening and thought both of my readers might like to share in the journey.
Looking into Sergeant John Martin Rushton (1837-1889) of the 7th South Carolina Infantry.
I started with Glen Swain's excellent roster in The Bloody 7th (Broadfoot, 2014), based mostly on the Consolidated Service Records (CSRs) from the National Archives.
Those records say Rushton was wounded at Sharpsburg in 1862. In November – December 1864 he was in a hospital in Richmond, VA with a gunshot wound in the shoulder, then served as an attendant in another hospital there. He retired in March 1865, presumably for disability, and was paroled at Augusta, GA in May.
Nothing unusual here; it seemed like a typical soldier story until I looked at his gravesite on Findagrave, which refers to him as Dr. Rushton. Not so many enlisted men were later physicians, so I thought I'd find out when and where he trained.
A little digging online with various forms of his name, and up popped an announcement in the Richmond Dispatch that J.M. Rushton of Edgehill [sic], SC graduated from the Medical College in Richmond (now part of Virginia Commonwealth University).
In March 1865.
Oh-ho! Now we're having fun: did our man attend medical school while still a soldier and patient/hospital aide in 1864-5?
That would be unusual.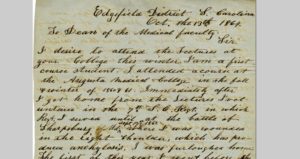 Then I got really lucky. Thanks to the digital archives at VCU, I found an October 1864 letter John Rushton wrote to Levin Smith Joines, the Dean of the medical school. In it, he requested admission to the Winter 1864-65 course, noted he'd had previous training in Georgia 1860-61, and best of all, described what he'd been doing since Sharpsburg.
So, in contrast to the tale of the CSRs, it turns out he was furloughed home after he was wounded in the shoulder at Sharpsburg and I don't think he ever returned to his unit. By January 1864 he had been judged disabled and was teaching school in Edgefield, SC.
He was admitted to the Medical College for the 1864-65 winter session and graduated in 1865. The day after he'd been "retired" in the Army records, coincidentally.
Long story short – I got to see part of the man's story in his own hand, in real time. Rare, but very gratifying. And a lot more exciting than the basic and sometimes confused service records.
…. on to the next story.