Doing research into the people and events of the Maryland Campaign is often a game of large effort invested for little return. In some cases, though, the reverse is true, and the clues revealed can be a bit overwhelming.
One such case is a story I've been working on and off for about a year now. It centers on Captain Enoch E. Lewis, Company K, 71st Regiment Pennsylvania Volunteers. Or maybe it centers on President Lincoln, I'm not sure yet. All I have right now is a collection of hints and pointers to interesting relationships and events.
The bare bones are these:
Lewis, a young lawyer of privileged background, of Philadelphia society, joined Oregon Senator Edward Baker's famed 'California Regiment' in 1861 as Captain of Company K. He served bravely in action through the battle of Antietam (September 1862), where he briefly succeeded to command of the regiment as senior officer present.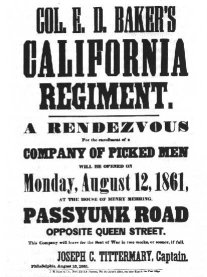 There is significant evidence that he and (by then) Major R. Penn Smith, another Philadelphia dandy who was the regiment's first Adjutant, had clashed personally and professionally. Was it a long-standing feud? Slights given and received while in service? Perhaps both, I can't tell yet.
Following Antietam, Captain Lewis was reported absent and shortly afterward charged–presumably by Major Smith– then arrested and court-martialled for being absent without permission and conduct 'unbecoming an officer' and 'prejudicial to good order and discipline'.
Although interrupted by the battle of Fredericksburg, the Lewis trial ran through most of December 1862. The trial transcript illuminates the somewhat relaxed view of military discipline and stiff code of honor held by the young gentleman from Philadelphia. The verdict, however, was guilty on two of the four charges, those of being absent from duty without permission. The Captain was reprimanded by having his name and offense publicly read to the Division in General Orders, and was to return to duty.
On 15 January 1863, feeling dishonored by his commanding officer, he tendered his resignation from his commission in the 71st Pennsylvania Infantry. This request came out badly, as he was instead dishonorably discharged on the 16th for attempting to resign 'in the face of the enemy'– a cowardly act.
You would think that would be the end of his military career, but it wasn't. Just over a year later, in May 1864, Enoch Lewis was commissioned Lieutenant Colonel of the 110th Pennsylvania Infantry. He succeeded to command on the mortal wounding of Colonel Rogers in June during the Wilderness Campaign, and led the Regiment until he was seriously wounded in the arm near Petersburg on 16 July. Apparently well thought of by peers and men, he was honorably mustered out of the service on a disability due to the wound in January 1865.
In trying to answer the obvious questions about how he obtained the commission in the 110th after having been dishonorably discharged, I've been looking into the relationship between Lewis' father, Joseph J., and President Lincoln. My guess is that political connections, possibly to the President personally, bought him redemption. I'll need real evidence, though, all I have right now is suggestive.
By May 1863, after lobbying from Governor Curtin and others, the senior Lewis had been appointed by the President as Commissioner of the Internal Revenue, apparently reward for his support in Pennsylvania during the 1860 election. Students of that election may know Joseph J. Lewis as the prominent Philadelphia abolitionist lawyer and newspaper owner who edited and first published Abraham Lincoln's 1859 auto-biographical sketch. Reprinted widely in the Northeast, it probably aided Lincoln significantly there.
I'll be looking next at order books and correspondence of the Army Adjutant General's Office in the Archives hoping to see how and when his new commission came through. I've already tramped (virtually) through the Lincoln papers at the Library of Congress, but found nothing directly bearing on young Enoch. I'd appreciate any suggestions for further sources from that side.
We'll see where these research threads lead.
Gem of an artifact
Most of the Enoch Lewis story I know to this point is from a stack of lovely old records at the National Archives in Washington DC. The basics of the service of both Lewis and his nemesis Smith are in their consolidated service jackets. Lewis' Court Martial transcript is also at the Archives.
One of the most interesting of the documents is Captain Lewis' resignation letter. He later wrote a two page letter describing his reasons in some detail, but the original resignation is quite brief:
It's not the text itself that is particularly exciting, it is the back of the sheet. Here we find the endorsements and notes that really tell the story. Take a look :
The three columns are formed by the paper being folded in thirds with the main text inside. I've seen a number of documents like this; it seems a standard way to self-envelope Army correspondence. I know it's kind of hard to read, so here's my transcription:
[column one]
Head Quarters 71st P.V.
Jan'y 16th 1863
Respect'y forwarded approved.

R.P. Smith,
Major Commd'g
_________________
Headquarters 2d Brigade
2d Divn, 2d Corps
Jany 16th 1863
Respectfully forwarded approved.
Theo. Hesser
Pa 72
Lt. Col. Com. Brigade
~~~~~~~~~~~~~~~~~~
Head Q. 2nd Divn, 2nd Corps
Jan. 16th 1863
Repectfully forwarded.
I think, even [unreadable] + the state of feeling existing between Capt Lewis & his superior officer, that it will be better for the service to accept his resignation.
O.O. Howard

[column two]
Hd Qr 2d Army Corps
RGD
Falmouth, Va
Jan 16 63
Approved & repectfy forwarded
D. Couch
Maj Gen

Has permission to a present in person –
D. Couch
Maj Gen

Ii
2ac
XXVI

Dis'y dis'a ard
Tendering resignation in face of enemy –

Rec'd HQ 2d AC Jany 16/63

[column three]
L#364 — 1863
_____________
Near Falmouth, Va.
Jany 15/63
__________
Lewis, E. E.
Capt 71 Pa. Vols.
__________
Resignation
__________
1 enclo.

Rec'd about Sep 68
Notes to endorsements:
Richard Penn Smith, Major and acting commander of the 71st Pennsylvania. He had relieved the wounded Colonel Wistar at Antietam, and was himslf wounded and relieved by Capt Lewis there.
Theodore Hesser, Lieutenant Colonel, 72nd Pennsylvania Infantry, acting "Philadelphia" Brigade commander; later killed at Mine Run, 27 November 1863.
Oliver O. Howard, commanding 2nd Division. I'm guessing his handwriting is so bad because he was right handed and had his right arm amputated after being wounded at Fair Oaks (May 1862). Can anyone else read that missing bit?
Darius N. Couch, commanding 2nd Army Corps, part of the Right Grand Division (RGD) of the Army of the Potomac.
Ii 2ac XXVI = I only recognize 2ac as 2nd Army Corps. Don't know what the other notations mean.
Dis'y dis'a ard [?] = dishonorably discharged
Third column looks to be filing notes; possibly added by a War Department clerk in Washington on receipt there.