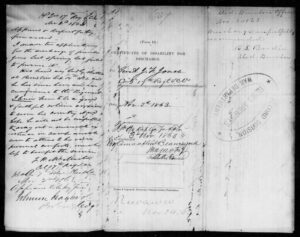 This is the outside of a 30 October 1863 application submitted by Lieutenant George H Kearse, then commanding Company G of the 17th South Carolina Infantry, concerning Private Jones Frank Jones of his Company. Jones had been wounded by a buckshot through his left hand at Turner's Gap on South Mountain on 14 September 1862, 14 months before.
It was the second or third such application for discharge made on his behalf.
Regimental commander Colonel Fitz William McMaster passed it along with the following illuminating note:

Hd Qr 17th Reg S.C.
Nov 2nd 1863

Approved and respectfully forwarded –

I made two applications for the discharge of Private Jones last Spring but failed to procure it.

His hand was badly mutilated at Boonsboro Sep 14th 1862 and he has since been an inconvenience to the Regiment. I know him to be a good & faithful soldier anxious to serve his country and hope he will not be compelled to ___ [?] out a miserable existence in camp unable even to attend to his own personal comforts, much less to benefit the service.

F.W. McMaster
Col 17th Reg S.C.
Private Jones was discharged 3 days later.
The inside of the application is shown below. It's from Jones' Compiled Service Record at the National Archives.