This fine image is from the collection of John Claudius Buchanan's great-great-great-granddaughter Sarah Boye. Buchanan enrolled as First Lieutenant in 1861 and was promoted to Captain of Company D of the 8th Michigan Infantry on 1 September 1862.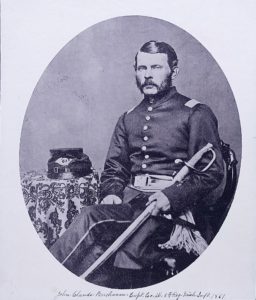 20 years later he very succinctly described his part and that of his Company in the 1862 Maryland Campaign to his son Claude:
… came to Alexandria and on through Washington to Maryland;
under Gen McClellan.

Marched through MD until 17th Sept [sic] and struck the Rebs at South Mountain;
next day moved to Antietam;
took and crossed the stone bridge at Antietam and crossed to the heights beyond;
here wounded in right arm;
went into Pleasant Valley and Nov 1 moved to Fredericksburg …
This is from Claude Robinson Buchanan's 1882 diary, in which he recorded his father's War Records. Transcription thanks to Sarah Boye. The original is in the Bentley Historical Library, University of Michigan, Ann Arbor.