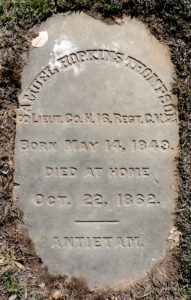 Orators at many alumni gatherings have spoken of the gallantry of Lieutenant Samuel Hopkins Thompson, the young Civil War hero, who led his men to the charge at Antietam and died crying, "Form on me, boys, form on me."

— Claude Moore Fuess in Phillips Academy, Andover in the Great War, a talk at Yale, New Haven, CT in 1919 [online]
Well, no, it probably didn't happen that way.
A former Phillips Academy student, Samuel H Thompson, the First Lieutenant of Company H, 16th Connecticut Infantry died at home in Connecticut on 22 October 1862. He was 19 years old.
It's not clear what killed him, though lots of literary and genealogical references – even his grave marker – attribute it directly to the battle of Antietam. His military record does not mention his being wounded in the combat there and he's not on the usual hospital lists. An undocumented wound? An illness he caught on the Campaign?
Something of a mystery.
See also: his good friend and possibly romantic interest, best selling author Elizabeth Stuart Phelps Ward.
_________________
This photograph of his grave marker was contributed to his Find-a-grave memorial by Jim Bancroft.