George Tottingham Cook was seriously wounded at Antietam in September 1862 while First Sergeant of Company C, 21st New York Infantry, and was 2nd Lieutenant of his Company at muster-out in May 1863.
His wound troubled him for the rest of his life.
Disabled for the field but still eager to serve, he was a Lieutenant in the Veteran Reserve Corps (VRC) from 1863 to 1867. Here's his impressive commission in the VRC signed by President Lincoln and Secretary of War Stanton. It was offered for sale by the Abraham Lincoln Book Shop in Chicago.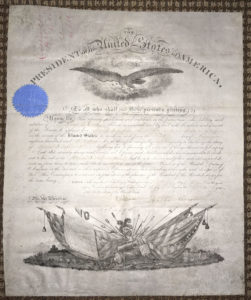 He continued in the Army as a Lieutenant in the 6th US Infantry after the War, but resigned, probably for health reasons in 1870.
After a stint in business in his native Buffalo, he got a Government job in Washington, DC in 1881, and from 1882-85 went to medical school in the evenings at Howard University. He probably met his wife Kate there – she graduated from Howard with an MD in 1884, he in 1885 – she almost 20 years his junior.
Here are their capsule biographies and a view of the medical lecture hall from Howard University Medical Department, Washington, DC: A Historical, Biographical, and Statistical Souvenir (1900). It's online from Howard.
George died at age 50 in February 1891 and an Act of Congress (HR 13971) of March 1891 granted a veteran's pension to Kate and their daughter Ethel Beatty Cook (1888-1980), citing his Antietam wound as a cause of his death.
Kate lived with Ethel in Washington, DC to her death there in 1928 – making a living as a clerk in the War Department. All three Cooks were buried in Arlington National Cemetery.