Here's the gravestone in Antietam National Cemetery for Corporal Franklin Averill of Company H, 21st New York Cavalry. The photograph was shared on his Findagrave memorial by prolific contributor Birdman.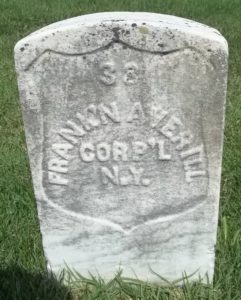 Franklin was wounded at Antietam on 17 September 1862 while a Private in the 21st New York Infantry, but survived to enlist again, in the 21st Cavalry in 1863. That regiment was assigned to the Remount Camp at Cumberland, MD from late August through October 1864, and seem to have had a miserable time there. There were at least three deaths, two civil arrests, and 18 desertions among the men of the regiment during that period.
One of these was Franklin Averill, who was shot by the provost guard in Cumberland and died there on 23 September 1864. The town clerk in Colden, NY later wrote that he
was shot by a picket through carelessness or daring, have been unable to get any further particulars.
I, too, wish I knew more of that story.
Franklin's remains were removed from Cumberland and reinterred in the new National Cemetery in Sharpsburg in about 1867.