Christian Ihde was mortally wounded in combat near Turner's Gap on South Mountain in Maryland on 14 September 1862 and died the next day. He was a 37 year old Private in Company I of the 21st New York Infantry and the sole fatality in his regiment in that action.
He left a wife and two small children in Buffalo, NY.
In October 1862 his widow Louisa kicked off the lengthy process – it went through 1868 – to get an Army pension for herself and her kids. The documents which made up that application are at the US National Archives, and thankfully also online via fold3. Following are two tidbits from that pension file.
This is a certificate of her marriage on 9 July 1852 in the village of Uelitz in Mecklenburg, Germany.
It's in German, of course, and features abysmal penmanship, so I was sure I'd get very little information from it. I was wrong. Two pages later is this English translation – complete with location of the town seal – supplied by Augustus Paul of Buffalo.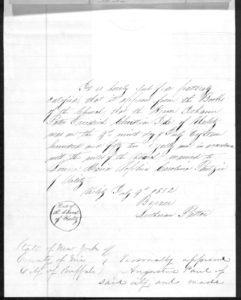 One of the best things about this document, now that I know what it says, is that it spells out Christian and Louisa's full baptismal names, viz, Johann Peter Freidrich Christian Ihde and Louisa Maria Sophia Caroline Pentzien. Fabulous.
Christian, his new bride, and his sister left Germany on a ship for New York 3 weeks after the wedding and were living in Buffalo by 1855.