I've consulted this fine map on more than one occasion during my recent research into signal officers and surgeons at Antietam.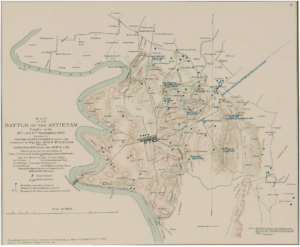 It is annotated with the locations of US Army field hospitals and signal stations on and near the battlefield, and is a compilation of two earlier maps which supported the after-action reports of Army of the Potomac's Medical Director Jonathan Letterman [report] and Chief Signal Officer Albert Myer [report].
I expect I'll need it again, so I'll keep a copy here.
Here's a blow-up of the middle part of the map [touch to enlarge] focusing on the local signal stations used by the Federals during the battle of Antietam on 17 September 1862.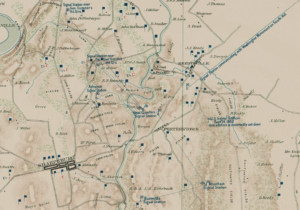 The signal officers who manned each station during the battle were:
Signal Station near Gen. Sumner's Hd. Qrs.
Poffenberger farm near the Hagerstown Pike
1Lt. J.B. Brooks (4th VT)
2nd Lt. W.H. Hill (99th PA)
Signal Station near Gen. Smith's Hd. Qrs.
Smoketown Road, East Woods
1st Lt. E.C. Pierce (3rd ME)
2nd Lt. W.F. Barrett (27th MA)
Advance Signal Station
On the Roulette farm
1Lt. F.N. Wicker (28th NY)
1Lt. G.J. Clarke (62nd NY)
…briefly, then …
1Lt. F. Wilson (5th PA Reserves)
2Lt. F.W. Owen (38th NY)
Head Quarters Signal Station
Dual station at/near the Pry house east of the Antietam
2Lt. W.S. Stryker (83rd NY)
1Lt. J.C. Paine (57th NY)
2Lt. C.F. Stone (6th ME)
1Lt. P.A. Taylor (49th NY)
Signal Station communication with the Washington Monument on South Hill
East of the Boonsboro Pike near Keedysville
[not named] possibly 2nd Lt. C.H. Cary (3rd MI)
Mountain Signal Station
On Elk Mountain east of Sharpsburg
1Lt. J. Gloskowski (29th NY)
2Lt. N.H. Camp (4th NJ)
Burnside Signal Station
Ridge on the Rohrbach farm east of the lower bridge
1Lt. S. Pierce (27th NY)
Capt. C.S. Kendall (1st MA)
All stations were under the supervision of Signal Detachment commander Capt. B.F. Fisher (3rd PA Reserves); he was most often at the Head Quarters station on 17 and 18 September.
______________
For a little about Confederate Army signal stations at Sharpsburg, see A New View of the Field at Sharpsburg, an exhibit on Antietam on the Web.
______________
Notes
The map here is part of Plate XXVIII (28) from Volume I of the Atlas to Accompany the Official Records of the Union and Confederate Armies (US War Department, 1891-95). There's a lovely digital set of all 178 plates from the Atlas online thanks to Baylor University. Here's their zoomable copy of Plate XXVIII.
My information about the specific manning of the signal stations comes from Major Myer's report, with details from that of Captain Fisher [here].
Each of these officers were detailed from their regiments to the Signal Corps earlier in 1861 or 1862 and all were Acting Signal Officers (ASOs) at Antietam. Many of them were later commissioned directly in the Signal Corps.
Each officer was accompanied at his signal station by two Privates as flagmen – men also detailed from volunteer regiments to the Signal Corps.
There were at least 37 US ASOs [see their unit page on AotW] on the Maryland Campaign of 1862 and more than 110 flagmen. I regret I have identified only 3 of those Privates to date.