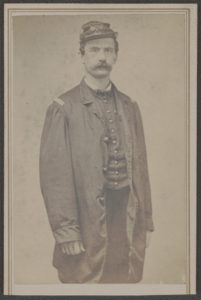 This lovely photograph of Lieutenant William Francis Barrett, complete with Signal Corps kepi, was taken by T.M. Schleier, photographer, Nashville, Knoxville & Chattanooga, TN, and is in the massive Liljenquist Family Collection of Civil War Photographs at the Library of Congress [online].
On 17 September 1862 …
… As our lines advanced on the west side of the Antietam, driving in the enemy's left, stations were established as closely as possible behind the lines, and near to the generals commanding in that portion of the field. A station was thus established, subject to artillery fire, by Lieuts. E. C. Pierce and W. F. Barrett, at the Miller house, near the position of General E. V. Sumner. The signal package carried on the saddle by one of the flagmen of this party was cut in two by a cannon-shot.
He served through the war as a Signal Officer and mustered out in August 1865.
Sadly, William died not quite 3 weeks later of malaria or dysentery contracted on campaign, leaving a widow Ellen and small son Charles. He was 30 years old.