Bad news and good news. The bad news is that the famed website cwartillery.org is no more. The good news is that the core information – if not the lively, efficient design – is still available online.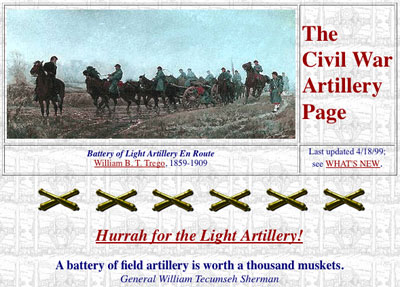 header, The Civil War Artillery Page, 1999 (C. Ten Brink)
Unfortunately, original author Chuck Ten Brink can no longer maintain the site, but he has passed the material to the care of the Robinson Artillery. It begins on their Civil War Artillery page.
Chuck first put his work on the subject on the Web in 1996, and has been thereafter the go-to guy for many of us on terminology, equipment details, guns and artillerists, and (in partnership with Wayne Stark) the Civil War Artillery Encyclopedia and the National Register of Surviving Civil War Artillery (sample: Antietam's page c. 1998).
I'll very much miss the old site, but say Hurrah, Chuck, for your long online service!
Frederick Phisterer's New York in the War of the Rebellion (3rd Edition, 6 volumes, Albany: J. B. Lyon Company, 1909-12) is probably the single best resource on New York military units and officers in the Civil War. It is two other things also, which are exciting to the likes of me: it's beautifully displayed online by the Internet Archives (IA) folks, and is in the Public Domain – free of any copyright restrictions.
New York in the War comes neatly packaged in 5 volumes and an index. IA offers 4 versions of each volume:
Read Online – a flip book display of all the page images. Very high image quality, and relatively fast loads (at least with my broadband connection). You can move about in the book here as you would in its paper cousin: click on the right page to turn ahead, the left to go back. You can also jump to a page by number or by link(s) in a set of search results.
PDF – a view of the page images in an Adobe Acrobat file. This downloads to your desktop, and can take a while at 50MB or more per volume. The interface is the usual one for a pdf – and depends on your reader/browser combination.
Full text – a somewhat jumbled simple text file of the entire volume displayed in your browser window, all in one pile. Searchable using your browser's "Find" tool, but can be hard to use. Looks like an uncorrected product of OCR after scanning. It is probably the version used to support text searching in the flip-book display. If he text is mangled here, it doesn't search well there. If you want to copy native text for use elsewhere, you'll do that from this text view.
DjVu – a cool viewer technology from Lizardtech which runs as an applet in your browser. Gorgeous high-resolution images of each page and a pretty viewer, but at the cost of large file sizes. This can mean very slow loading and paging. I haven't used this much, so I expect there's more here than meets the eye.
Plus a file transfer (ftp) repository for all versions and files, so you can grab a copy of any of their files for each volume.
My favorite version for reading online has been the two-page-at-a-time "flip book" view, but I thought it might be easier to navigate across the volumes if it had a hyperlinked table of contents (hyperTOC!). So I wrote a rudimentary one …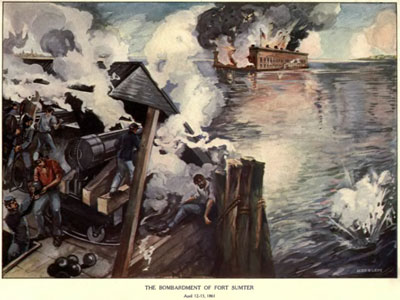 The Bombardment of Fort Sumter (by Alexander Oscar Levy, from Phisterer, Vol. 1, opposite pg. 316)
read the rest of this entry »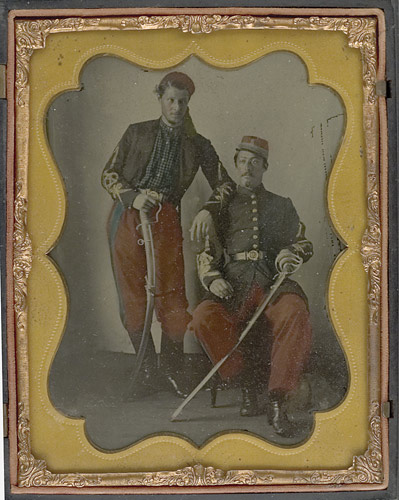 M.A. and G.A.G. Coppens (1861, from Cowan's Auctions)
This stunning piece is a rare image of two Louisiana Zouaves, one of whom was killed in action at Sharpsburg. It is among a trove of pictures of "my boys" I've harvested from the web in the last few days – thanks to Cowan's, Heritage, and Museum Quality Americana auction houses.
I've ranted in the past about our history disappearing into the hands of private collectors (and it's still a shame this stuff isn't in public repositories), but I'm mostly reconciled to that. As long as firms like Cowan's continue to make their archives of past sales available on the web, I think they're acting in some ways as digital museums – and doing us a great service.
I'll be pushing more than 20 of these new-to-me images of Antietam/Sharpsburg participants to AotW over the next few days. Among some of the most compelling is the lovely tinted half-plate ambrotype above, along with a crisp CDV and a mustering-out group photograph below …
read the rest of this entry »