Buried below the fold here on the blog are a number of fantastic discussions growing from older biographical posts. As site owner I can see these conversations as they happen, but I'm not sure either of our other readers notice. Hence this pop-up flag. That, and I'm not getting any writing of my own done …
Notable lately have been contributions from Morrisons and a Lewis. Look in comments more recently, too, for insights from descendents of Weisiger and Clark. Old mysteries solved, but new avenues opened as well, so please jump in if you can help.
The many of the Morrison Clan who have stopped in to add information have driven the comment count on last year's piece on patriarch Robert Hall Morrison to first place all-time. I'm amazed by the rich detail these family historians have brought to the story, and recommend you get caught up if you've not been following the threads there.
Anne Morrison Garber also seeks help locating Morrison scholar Sarah Marie Eye's new email address … anyone?
Enoch Lewis' descendent Annie Lewis teases of connections to the US Military Academy at West Point in a new comment. Do please speak up if you know where that hint leads. Captain Lewis' case is still a tangle of unanswered questions of politics and motivation to me.
Oh for more time to research …
Your assignment: catch up with some new and fascinating online work about the Maryland Campaign of 1862.
Recent and ongoing now is an excellent discussion about who did what at Sharpsburg on TalkAntietam*. Beginning with fine-grain research Dean Essig is doing for his new wargame–with other genuine experts weighing in–the group is exploring the reality of the "numbers" of the battle. The unintentional but inescapable conclusion here may be that it's impossible to acurately quantify the battle. See what you find …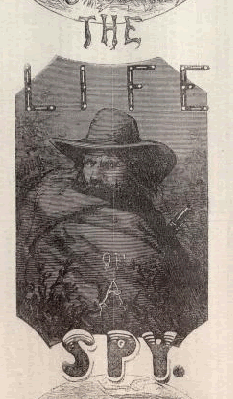 from Harper's Weekly, 24 October 1863 (Son of the South).
Be sure also to catch the two latest feature articles Larry Freiheit has contributed to AotW. At the top is his view of Military Intelligence in Maryland from both General's perspectives. You'll find a number of 'hmmm' moments in that piece. Larry's also the author of an analysis of JEB Stuart's cavalry at and before Sharpsburg, which was posted just before the anniversary last year. Mighty fine.
Also fresh is John David Hoptak's masterful biographical sketch of Brigadier James Nagle. Ranger Hoptak is highly fluent on Nagle and the 48th Pennsylvania Infantry, as you probably know from his blog. Thanks to the Save Historic Antietam Foundation for sharing that work online. When you see (or visit) next, ask John how you can help restore the General's sword, too.
__________________________
* Anyone can read the messages on TalkAntietam, but you'll have to join the group and be approved to contribute. But that's easy, trust me. I know the group moderator really well; I can get you in :)
I've just stumbled over a fascinating project of Christoper Busta-Peck's covering the Old National Road/National Pike. You probably know that part of that historic thoroughfare was on the path of the Armies during the Maryland Campaign of 1862.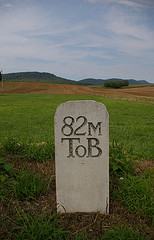 National Pike milestone, recreated (C. Busta-Peck)
Christoper is a librarian at the Enoch Pratt Free Library in Baltimore, and is using the blogging medium to perfection, as I see it, to illuminate history right under our noses. History, I dare say, most of us have missed. Do go see his excellent use of GoogleMaps to cover the milemarkers and other sights along the Road, in addition to the range of other fine posts on the subject.
When he started in September 2007, Christopher explained:
This blog is my attempt to describe and share my journeys on the National Pike, as it winds its way from Baltimore to Cumberland, Maryland, as well as the National Road, from Cumberland, Maryland, to Vandalia, Illinois. I plan to include plenty of photographs, maps to describe the journey.
The blog post that finally caught my attention today is about the series of 19th Century stone bridges over the Antietam and the 1910 book on the subject by Helen Ashe Hays. He's scanned and posted the superb photos from that volume. Both of my readers will immediately recognize the spans in his post as brothers and sisters of what's now known as Burnside Bridge.
Bravo. Brilliant!