Battlefield tourer Steven Mynes has begun a new blog at CW Battles and Battlefields to share his adventures. His first post is of particular interest, being a presentation of the action of Fire on the Mountain: last weekend's artillery reenactment at Fox's Gap on South Mountain. A nice collection of action photos is included, with more promised.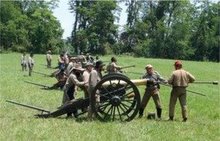 The Battery (S. Mynes, from his blog)
Steve also shows fine form in the selection of his first Site of the Month feature …
Welcome Steve and happy blogging!