There was no giving-up in this man.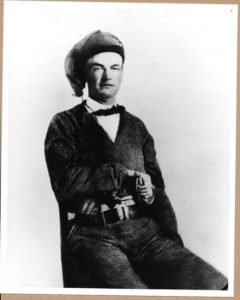 He lost his left arm after being shot at Sharpsburg, so Lieutenant Joseph Lane Taylor of the University Greys – Co. A, 11th Mississippi – resigned and went home. Once there, though he …
… engaged in running the blockade to supply the great needs of his neighborhood, was arrested in Memphis as a spy, imprisoned in the old Irving Block Prison on Second Street and finally released [in January 1865] on $10,000.00 bond to report daily to the Federal provost marshal.
He took the oath of allegiance in Memphis on 12 April 1865 and died relatively young at age 38 in 1877.
__________
Thanks to Starke Miller (Miller Civil War Tours, Oxford, MS) for the copy of this photograph, from the Mississippi Department of Archives and History.