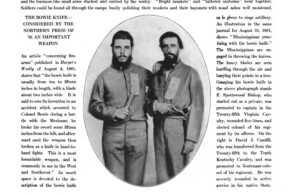 Elijah Spottswood Bishop, First Sergeant of Company E, 37th Virginia Infantry was wounded in action at Sharpsburg and four other times during the war, was a Cavalry Captain by June 1864, and survived to return home in April 1865.
His photograph above, with David J Candill, 25th/10th Kentucky Cavalry, is from Francis T Miller's Photographic History of the Civil War (Vol. 5, 1911). All 10 volumes are online thanks to the Hathi Trust.
Below are Elijah and his wife Jennie in about 1900. It was posted to the Geni genealogical database [free membership required] in 2016 by Breya Warnstaff.