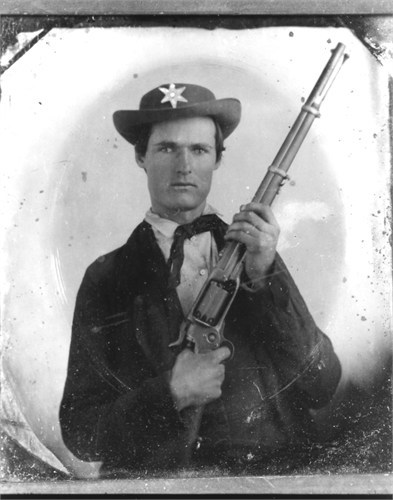 William Rufus Barlow was conscripted into Confederate service in August 1862 and assigned as a Private to Company B of the 18th North Carolina Infantry. He was slightly wounded in his first action, at Sharpsburg in September 1862, and was afterward with his Company until captured at Spotsylvania Court House, VA in May 1864. He ended up in the prison at Elmira, NY and died there of pneumonia in January 1865.
This fine photograph of him is from a family researcher, shared online on WikiTree.
There's a superb discussion about Barlow's family and a collection of his wartime letters in Company Front (Issue 2, 2013) [pdf], the journal of The Society for the Preservation of the 26th Regiment North Carolina Troops, from Locke W. "Skip" Smith, Jr.
Mr Smith described the photo above:
The firearm held by Private Barlow in this image is a rapid-fire "sidehammer" Colt Model 1855 Revolving Carbine, in a rare variant known as the "Artillery Model." This .56 caliber weapon never gained wide acceptance due to its propensity to "chain fire," or discharge all five chambers of its firing cylinder in one dangerous explosion. This problem may have in part prompted the Federal government to transfer sixty of these long arms to the State of North Carolina on May 7, 1859, and Barlow's carbine may be one of that number. Other images of North Carolina Confederate soldiers armed with this weapon can be seen in Mast's State Troops and Volunteers, images 2.67, 4.2.12, and 5.4.11. A saber type bayonet could be fixed to this "Artillery Model" carbine. In this typical early war image Barlow appears in civilian clothing with a 6-pointed "secession star" device affixed to his low-crown bowler hat.
I've seen a number of these rifles in soldiers' photographs. Perhaps they just made good photographers' studio props, not that they had wide use.
I've also recently seen a large number of Sharpsburg veterans who died at Elmira. All of them said to have died of pneumonia. I wonder if that was really the case, or was it lazy medicine or lazy medical record-keeping? Pneumonia wasn't the most common cause of death at other prison camps.