The Memorandum from Prisoner of War Records form was used by US War Department clerks to compile information from various records relating to a soldier's time as a prisoner during the Civil War.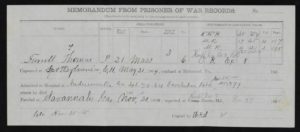 This one is for Private Thomas Farrell of the 21st Massachusetts Infantry. It's stored among other papers in his Compiled Military Service Records jacket at the US National Archives; they're online from fold3.
Thomas was wounded at Antietam in September 1862 and was captured at Spotsylvania Court House, VA in May 1864, afterward a prisoner at the infamous Camp Sumter at Andersonville, GA.
He left the camp by exchange on 14 November 1864, having spent his last two weeks there in the prison hospital – more often the place soldiers were sent to die. Here are the cover and his page from a logbook of Andersonville departures, online from FamilySearch [free membership required].