William R Hamby enlisted in 1861 at age 16 as a Private in the 4th Texas Infantry, was wounded at 2nd Manassas and Sharpsburg, and was discharged for disability in November 1862.
Nearly half a century later he was instrumental in raising funds to have an impressive monument to Hood's Texas Brigade placed on the grounds of the state capital in Austin.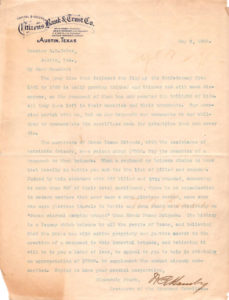 He wrote this letter to Texas State Senator Robert Emmet Cofer (1870-1944) looking for an appropriation of state money to match that already raised privately in an effort to get the project finished. There's some stirring stuff here:
… there is no organization in modern warfare that ever made a more glorious record, none ever won more glorious laurels in battle and none stand more gloriously on "Fames eternal camping ground" than Hoods Texas Brigade …
Although the state provided no funds, after all, Hamby and his committee did get the needed contributions to finish and install the monument in October 1910.
This copy of the letter was sold by Buckingham Books.
____________
Here are some more Hamby artifacts.
This carte de visite (CDV) is in the Lawrence T. Jones III Texas photography collection at Southern Methodist University, Dallas. There are a couple of interesting things about it, though. He's in a Captain's uniform – a rank he did not reach with the 4th Texas. And he looks somewhat older than 17 or 18 years – the maximum age he would have been in uniform.
I've found no record of any later war service after his November 1862 discharge, but it's possible he was in a local militia or other home-front unit. His 1910 bio sketch from the Brigade Association says he "rose to rank of Captain during the war," but offers no details to narrow that down.
On a side note, it's curious that all of his military records with the 4th Texas list him as R.W. Hamby, as if he was trying to hide his name – perhaps because he was under age? It's a mystery to me.
This engraved portrait is from 1888 when he elected to the Texas House of Representatives. It accompanies his biography (pg. 227) in the Personnel of the Texas State Government (1889); online in a PDF from the Milam County Historical Commission.
Here he is again, with other survivors of his Company in November 1897 at the Tom Green Rifles Reunion in Nashville, TN, in a photograph contributed to his Find-a-grave memorial by Sharon Rish King and is from the Confederate Veteran magazine (Volume 5, November 1897).
____________